Home
Products & Services
Drilling Software
Mud Reporting
MUDPRO
MUDPRO - Drilling Mud Reporting Model
Overview
Features
Resources
Specification
Drilling fluids are a vital part of drilling operations. It controls wellbore pressure, lubricates and cools the drill bit, carries the drill cuttings, and other essential functions. To fulfill these tasks, carefully chosen additives are incorporated into the mud to control its properties. It is the mud engineer's responsibility to ensure that any new mud that is produced and added meets the required specifications.
In the past, mud engineers relied on paper forms or Excel® spreadsheets to record mud properties, product usage, and inventory on a daily basis. This approach meant that engineers encountered a variety of issues, such as disorganization of numerous daily reports and difficulty with generating end-of-well recaps.
MUDPRO is a mud reporting software that complies with API specifications for field use. With an advanced database, this innovative, all-inclusive model significantly improves drilling fluid data gathering, sharing and management.
MUDPRO is designed for both mud engineers at rig sites and engineering managers. A mud engineer will use the software to record mud data and generate daily reports whereas a manager can use MUDPRO to review and manage data, make an end-of-well recap and compare multiple wells.
Our advanced version, MUDPRO+, includes enhanced mud volume tracking and concentration calculations, which are more accurate and effective in handling a variety of mud volume transitions.
**New Version Coming Soon!**
Up and coming! Our all new next generation of MUDPRO is being developed for its release this year. An all-new dazzling visualization, added machine learning, an at-a-glance dashboard and much more. We are commencing MUDPRO's advancement to bring you a better, improved daily mud reporting software to meet your daily needs. Stay tuned for its release date and experience the next generation of MUDPRO for yourself.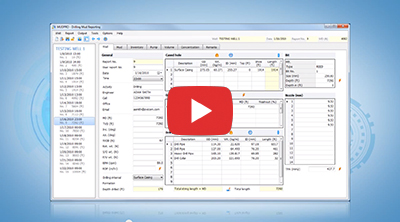 Land and offshore wells
Water, oil and synthetic-based mud
Daily report
Hydraulics
Recap
Well comparison
Planned and actual data comparison
Solid analysis
Volume tracking
Salt type selections: NaCl, CaCl2, or Dual salts
Master product database and tubular database
Exporting and importing wells
"Used" or "Final" based inventory count method
Engineering tools
Price change and automatic recalculation
WITSML report
Keyword search
User defined drilling interval and interval recap
Concentration calculation
Wellbore schematic
Data export to HYDPRO
Printing size: letter, legal or A4
US oil field, SI and customized units
Multi-language: English, Spanish, Chinese and Russian
Screenshots
Brochures
White Paper
FAQ
Bookstore
Operating Systems

Microsoft Windows® 8/8.1, Windows® 10

Microsoft Office®

Processor

Dual-core Intel or AMD processor, 1.4 GHz or faster. Quad-core CPU recommended. Not compatible with ARM processor

Memory

Disk Space

200 MB of free disk space for installation

Display

1,280 x 768 display resolution

Installation Options

Setup file can be accessed from a download link or installation CD provided by PVI