Recreational activities are an essential element to have in the workplace. They give employees the ability to perform tasks or to solve problems in various ways that can be more beneficial to the business as a whole. Recreation helps to bring a fresh change to a work atmosphere that can inspire employees to be more productive, find joy in doing their work and to feel determined to succeed. Through a mixture of activities focused on balancing work, life and creative thinking, they may become more creative and enthusiastic at work. PVI has implemented activities where the employees can participate and connect with each other to help increase workplace creativity, performance and innovation.
The first ever PVI Foosball Tournament is a good example of this and it was a blast! The formula was simple: the names of everybody in the company were drawn from a jar and each employee had to pick a piece of paper with a name on it, whoever's name was on that paper would be their partner for the game. Each team consisted of 2 members and everybody had to come up with a name for their team, (the originality of some of the names was unparalleled). There were third, second and first place prizes, and for those who did not win, the fun and excitement was a good reward.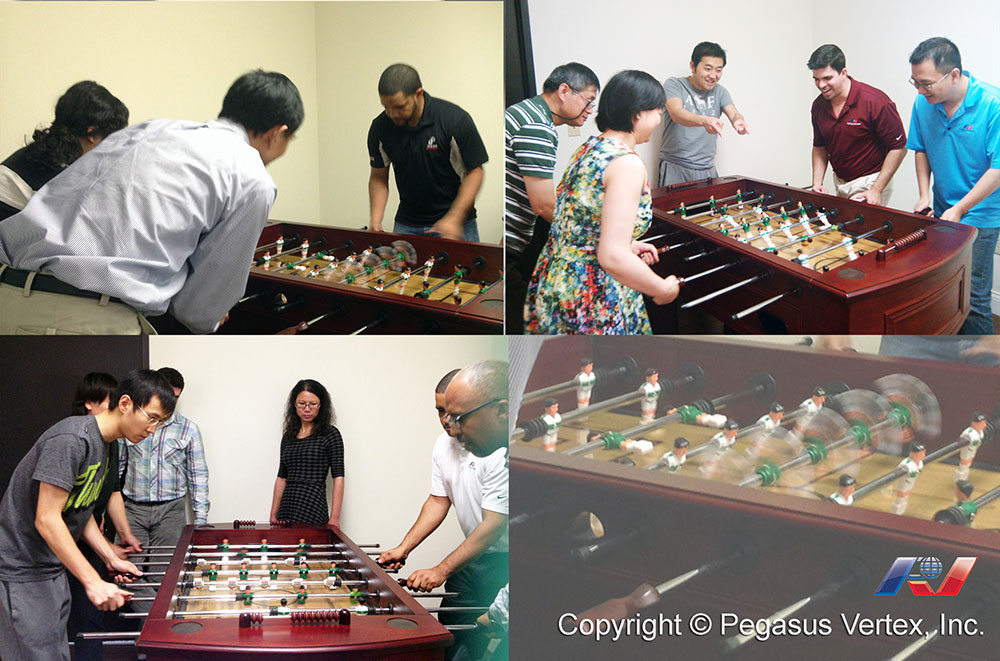 Each team laughed, yelled, and fought valiantly. All teams were very competitive, but not without integrity and great spirit. As teams waited, they had time to get to know one another better, which made it a fun event. The tournament lasted 2 weeks and the finals were intense, but at the end of the game a few positive things were learned from it.
Being involved in activities such as this can help employees to engage in their productive side while also learning beneficial team building skills, which lead to job satisfaction, service quality and customer satisfaction. Physical activities have also been shown to help increase brain sharpness and even strengthen the immune system, which help employees to relax and de-stress. You may be surprised by the results of having such activities in the workplace.
Ever since the tournament, Foosball has become part of our company's daily routine. The amazing thing is that most of the employees had never even seen a Foosball table before, and now they are pros. Due to the positive results and popular demand, we are sure there will be more Foosball tournaments to come. The enthusiasm is compelling and it results in happy employees that use their critical thinking skills to come up with new ideas that can transform our business and our software.
17578 Total Views
6 Views Today