Everyone knows that the season for giving begins in November for Thanksgiving and continues in December with the Christmas holiday. More money is spent on gifts at this time than any other time in the year. Many folks also become very generous by giving to charities, the homeless and people in need of food during the holiday season. Large companies and individuals alone will take time out of their day to volunteer to feed people holiday meals, or give large donations to charitable causes. While these are honorable things to do during Thanksgiving and Christmas, it sometimes appears that we forget about actions like these once the holidays are over.
Whether we accept it or not, there are people around the world, around the country and right in the city we live in who are in desperate need of help every day.  Many people that we may help feed Thanksgiving dinner will not have anything at all to eat the very next day.
There are several non-profit organizations that assist in caring for homeless, sick and hungry people; however, their funding is limited and the resources that they require can be overwhelming. One of these organizations is the Houston Food Bank which provides non-perishable food and meals to people in need around the city of Houston. This organization requires quite a bit of support and thrives on volunteers and donations to exist.
A few years back, I took time out of my day to volunteer at the Houston Food Bank. It was quite an experience! I sorted food and helped prepare care packages for needy families. I felt good about the idea that I was actually working first hand towards helping someone who needed support.
I am very fortunate to work in such a prosperous industry - Oil & Gas. I am very thankful for the opportunity every day. I network with many professional people that, like me, are blessed to have a solid career and foundation to support their families and live a happy life. However, I feel that we can do things that can support those in need. Several large oil companies hold impressive events each year that raise money for charities. I always try to support events like these. I think they are excellent ideas.
Since I work in oil and gas sales, I have had the opportunity to network with many people on golf courses. Golf is a great game and even if you are not a good player, you can enjoy the outdoors and have a great time relaxing and even discussing business on the course.
A few years ago, I decided to step out and see if I could make more of a difference for hungry people in Houston.  I came up with an idea for Pegasus Vertex to host a charity golf tournament that would raise money for the Houston Food Bank. Fortunately everyone at PVI was excited about the idea. The Oil & Gas Charity Golf tournament is a way for companies and individuals in our business to take one day and help make a difference. We also have a food drive at the tournament and collect non-perishable items to donate to the organization. Several companies have supported our cause and helped us sponsor this event.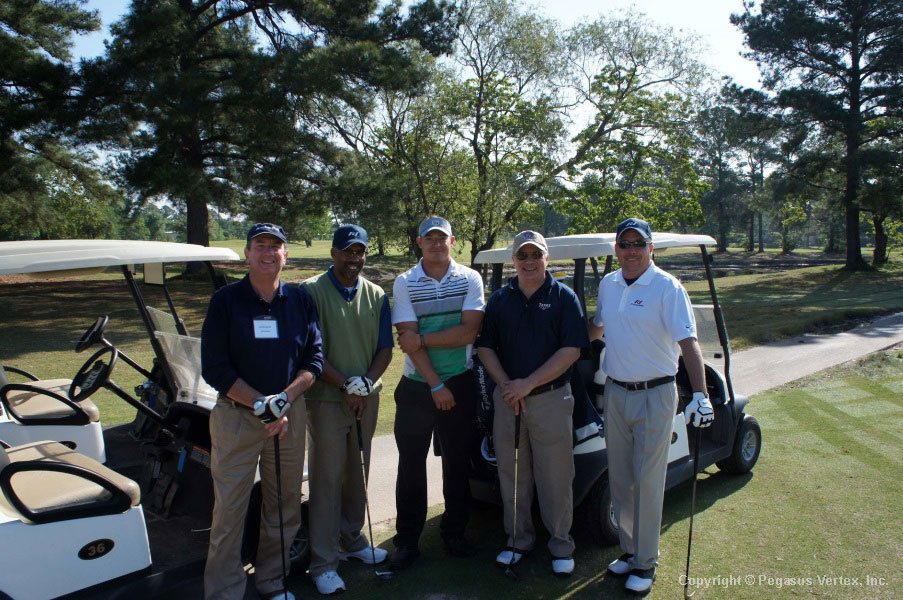 This year's tournament is held at the beautiful Augusta Pines Golf Club, right outside The Woodlands, Texas. The event will be held on Monday, May 12, 2014, the week after the Offshore Technology Conference. To sponsor or play in the event, you don't have to be a part of the oil and gas industry. You don't even have to be a golfer – you can simply sponsor a hole or give a donation. We still have openings for players and sponsorships as well.
It doesn't have to be Thanksgiving or Christmas to give to someone. You can make a difference at this event and you can also have a lot of fun!
For more information on the Oil & Gas Charity Golf Tournament, please visit www.pvisoftware.com.
5069 Total Views
2 Views Today