There's a movie that came out in 2011 called "New Year's Eve". It's a movie about a couple of people that have their own thing happening on new year's eve, but somehow their lives intertwine during that day. At the end of the movie some have a happy new year's eve and some a not so happy one, but the reality of it all is that such is life. It's a fun movie to watch and it's has lessons for us all.
There's one particular story in the movie called "New Year's Resolution" which is played by Michelle Pfeiffer and Zac Efron. Michelle Pfeiffer plays Ingrid, a middle aged woman who has a meaningless life, according to her, because she has always been afraid to take risks and enjoy life. She has spent her life "worrying too much" and never got to achieve any of her dreams. Zac Efron plays Paul, an energetic young guy who also happens to be the messenger of the record company she works at. On December 31 they talk for the very first time although they've been working in the same place for a few years. She has a full list of all the things she wants to achieve before the year ends, but her negativity has kept her from making it happen. She feels she has to change that and decides to make all her list of resolutions come true before 12:00am that night. That's when she asks Paul for help and tells him that if he helps her make the list before midnight she'll give him the tickets to the biggest party in the city that same night and he agrees. By the end of the day Ingrid has learned that worrying too much about money and other things can keep you from living and enjoying life to the fullest.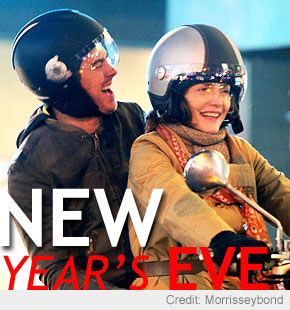 What's not to love about this lesson? Why should we all be so stressed out about things in life when sometimes those things can be fixed with a small effort on our part. There's a way to everything in life, instead of worrying too much, why not look for a solution? We can apply this lesson to every aspect of our lives, personal and professional.
For instance, drilling productions are expensive and take a lot of time for the people involved in it. Engineers can go out of their minds when problems arise and when that happens the production ends up losing a lot of money. Since this is something in every engineer's mind and it's something that can cause too many worries, why not take advantage of what the world of technology has to offer? There are software that can keep you updated with everything that's going on during the drilling process and can warn you of any problems before anything goes wrong. Sometimes giving a little extra and spending a little more money can in the end save you a lot of money.
PVI offers a variety of high quality software that can help engineers to do a lot more, be very confident of the work that is being done and have no worries. Why waste time worrying if there are ways to make your work and life easier. Ingrid spent all her life worrying too much about not being able to ever make her resolution list come true, but Paul in just one day made all the things on the list reality, proving to her that once we stop worrying we can achieve anything we want.