To make a long story short. When I was in Banff, Canada I went to this store and saw a big poster with the words: "This is Your Life". I was quite touched by these words, so much that I bought a few inspirational posters once I was back in Houston.
Now, one of them is hanging on the wall in our break room in the office.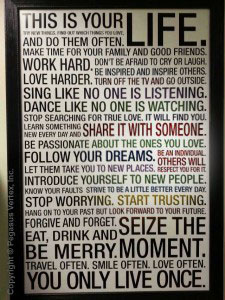 The story behind this poster hanging on our wall is that someone wrote these sentences as some kind of resolution to inspire himself. His friends found them so inspiring that they started to copy the writings, then, this guy started out a business by selling these kinds of posters. Why not? Making money while inspiring people seems like a good way of earning a living.
Even though it is difficult to follow them, I agree with every phrase in the poster. These phrases are the author's personal words, but I believe it is a good idea to put the poster in our office area.  After all, we're all just normal people before we are software developers and salesmen and we all need inspiration in life.
We make drilling software. The quality of our software is the reflection of the dedication we put in our work. We spend 1/3 of our time working. Our work is part of our lives. If we can improve our lives, we improve our software.
This is our life and this is our software.
5732 Total Views
2 Views Today