It's the last week of September and we are in Calgary, the energy center of Canada. 2 weeks ago a sudden snow struck the city and killed quite a few trees. We can feel that winter is coming slowly into this growing city, both vertical and horizontally.
In 2012, Calgary added to the city its tallest building, "The Bow", which is 779 feet. From outside, it is a beauty of steel and glass, no sign of concrete whatsoever. This is what we saw the other day when we visited our clients.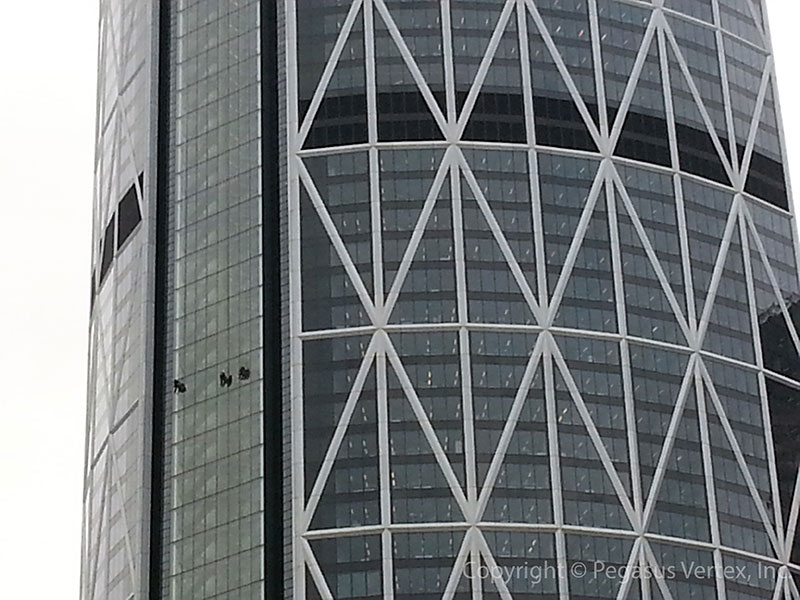 From the picture you can see the cleaning crew hanging way up in the air while cleaning the windows. They are probably trying to get the job done before the winter fully arrives. I think there are lots of people that are afraid of heights, so those people must to a certain degree, like such risky jobs, but personally I feel blessed to be able to walk on solid ground and appreciate the job I have.
It is fair to say that none of us have the perfect job. We make tradeoffs here and there and try to have a balance between what we have and what we want. We develop drilling software and this task requires intensive coding. Occasionally, I lose myself in the midst of numerous lines of programming codes and feel like the purpose of the work gets a little fuzzy. Trips like this one help me see how lucky we are and how much we already have and the chance to meet our users is always a plus. Nothing beats to see how our drilling software helps drilling engineers on their daily tasks.
Do I complain about my job? I try not to. Living in a real world, we all have different jobs. The perfect job does not exist because each of us has our own definition of it and even if it does exist, somebody else has it. Maybe the perfect job cannot be found, but is created through a combination of harnessing our potential that not only increases our performance, but brings us more job satisfaction.