Home
Products & Services
Drilling Software
Others
Dr. DE
Dr. DE - Drilling Engineering Toolbox
Overview
Features
Resources
Specification
This past century has been the most pivotal in drilling technology advances with the most influential drilling professionals collaborating with literature, books, and computer programs. Despite these developments, the amount of information we are receiving can many times be overwhelming.
Much of the technological advances and engineering applications from the past four decades have been encompassed into Dr. DE. Dr. DE is a comprehensive collection of drilling engineering calculations all in a straightforward and user-friendly software.
Flipping through handbooks and spreadsheets to find solutions is no longer an issue. With Dr. DE, the user has access to over 180 functions ranging from drilling engineering fundamentals to advanced well path designs and 3D wellbore visualizations, all in one software.
Dr. DE is available as a standalone web based software as well as a mobile application. For a limited time only, PVI is offering a 90-day free trial of Dr. DE's web based software for subscribers. Click here to subscribe to the PVI newsletter.
We are also offering Dr. DE Lite, an all-in-one digital toolbox that turns daily drilling calculations into accurate solutions. To download Dr. DE Lite for free, please scan the following QR code or download the app from your mobile phone.
If you're a returning customer, click here for direct access to the Dr. DE web application login page.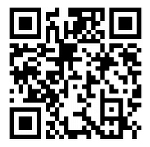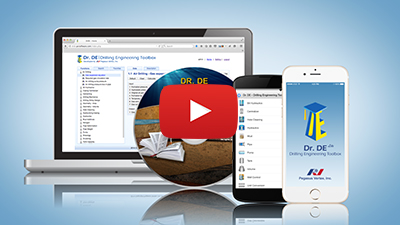 26 groups, over 180 functions
One reliable source
Accurate and quick
Amazingly simple
Highly visual
Up-to-date and standardized
Professional reports
Save time and money
3D well path visualization
US oil field, SI and customized units
Stand-alone and web-based version
Company account with multiple users (web-based only)
Screenshots
Brochures
White Paper
Version Highlights
Mobile Apps
Bookstore
Stand-alone:
Web-based:
Version 2

Mud formulation function (stand-alone version only)
Updated drilling fluid in fluid database
Updated graph for Drilling Mechanics – Bending stress
Modified insert and paste function in tubular, centralizer and fluid database
Version 1

Over 180 functions, 25 groups
Up-to-date and standardized
Microsoft Word® report
Highly visual
US oil field, SI and customized units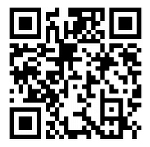 Rig Math - $90

John Mitchell, published by Drilbert Engineering, Inc., 2011

Rig Math presents an easy way to learn the math used in drilling. It is a highly visual approach that makes math extremely easy and intuitive. The reader will learn to reason his way through any well control problem without using complicated equations or a kill sheet. Rig Math covers the hierarchy of operations in equations, use of scientific calculators, multiplying fractions with words, conversion factors, elementary algebra and much more.

For a limited time, a complimentary 3-month Dr. DE leasing license will be included in any book purchases. Tax, shipping and handling cost will be applied. Contact [email protected] for more information about book purchasing.
Desktop Application System Requirements
Operating Systems

Microsoft Windows® 7, Windows® 8/8.1, Windows® 10

Microsoft Office®

Processor

Dual core processor, 1 GHz or faster

Memory

2 GB RAM (4 GB recommended)

Disk Space

200 MB of free disk space for installation

Display

1,280 x 768 display resolution with true color or higher with small font

Installation Options

Setup file can be accessed from a download link or installation CD provided by PVI
Web Application System Requirements
Browser

IE 8 or later, Firefox, Chrome, etc.

Plugin