Home
Products & Services
Drilling Software
Mud Reporting
MUDPRO+
MUDPRO+ - Advanced Drilling Mud Reporting Model
Overview
Features
Resources
Specification
Mud plays a very important role in carrying cuttings out of the wellbore to the surface. Maintaining mud in good quality is an essential task during any drilling operation. Various additives are added to the mud to make it more effective; however, due to the high cost of some of these additives, the creation of mud can be expensive; therefore, recording mud volume and monitoring mud concentrations is imperative.
With years of experience on developing mud reporting software, Pegasus Vertex, Inc. has developed MUDPRO+, an advanced version of MUDPRO, records all actions mud engineers perform on mud, including additions, losses, returns and transitions. MUDPRO+ can help mud engineers achieve their daily tasks efficiently. The software can generate daily mud reports, record mud properties, record inventory usage, and perform engineering calculations. Furthermore, it includes enhanced mud volume tracking and concentration calculations, which are more accurate and effective in handling a variety of mud volume transitions.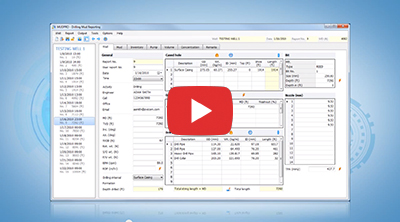 Land and offshore well
Master product list
Tubular database
Exporting and importing wells
Water-based, oil-based and synthetic mud
Pits setup
Mud receiving, returning and transferring
Enhanced concentration calculations
Salt type selections: NACl, CACl2 or dual salts
Mud losses in reserve pits
Pit volume validation for pit capacity
Engineering tools
Price change and automatic recalculation
Automatic recalculation after historical changes
Flexible recap review
Printing size: letter, legal or A4
WITSML report
Comparison between planned data and actual data
User defined drilling interval and interval recap
Well comparison
Solids analysis
Hydraulics calculation
Concentration calculation in each pit
Wellbore schematic
Automatically copies previous data
Mud volume tracking
Automatically data backup
Daily action tracking and log
One-page /two-page /three-page daily mud report
Export data to HYDPRO software
Riser operation
Multi-rheology inputs
Choke, kill, boost lines
Mud concentration initialization for received mud
Multiple daily mud report , Cost summary and Concentration reports
US oil field, metric and customized units
Multi-language: English, Spanish and Chinese
Screenshots
Brochures
Bookstore
The Drilling Supervisors Guide to Understanding and Maintaining Drilling Fluids - $125

Dr. Kenneth L. Bridges, published by Drilbert Engineering, Inc., 2008

This guide covers virtually every aspect involved in understanding and maintaining drilling fluids. It is intended to give the Drilling Supervisor and the on site Mud Engineer a thorough understanding of drilling mud. The book begins by giving a basic understanding of mud chemistry and polymer chemistry are covered in detail. Calculations for engineering and maintaining the mud are presented in a clear and simple format.The goal of the manual is to enable the rig site supervision to be able to understand and manage the drilling mud programs. Topics include: Functions of Drilling Fluids; Drilling Fluid Properties; Well Bore Stability; Drilling Fluid Components; Drilling Fluid Systems; Solids Control; and more!
For a limited time, a complimentary 3-month Dr. DE leasing license will be included in any book purchases. Tax, shipping and handling cost will be applied. Contact sales@pvisoftware.com for more information about book purchasing.
Operating Systems

Microsoft Windows® 7, Windows® 8/8.1, Windows® 10

Microsoft Office®

Processor

Dual core processor, 1.4 GHz or faster

Memory

Disk Space

200 MB of free disk space for installation

Display

1,280 x 768 display resolution

Installation Options

Setup file can be accessed from a download link or installation CD provided by PVI